On the occasion of Yom ha-Shoah, which is Holocaust Remembrance Day and falls this year on April 28th, Eytan Pessen – a world-renowned musician and educator, descendant of Samuel Wrzesinski of Mogilno (possibly related to the Jewish family of the Wreszinskis from Trzemeszno) – has prepared, especially for us, a recording of a Jewish song written in the Lodz ghetto. As Eytan wrote: "It is a lament about the terrible situation then and is appropriate to the situation now for many in Ukraine".
The singer of this recording is Danylo Matviienko, a Ukrainian Baritone in the ensemble in Frankfurt Opera (he started out at the Akademia Operowa in Warsaw a few years ago).
He is accompanied at the piano by Eytan Pessen.
Artist biography of Eytan Pessen
Eytan Pessen was born in Israel. He studied at Tel Aviv University, the Curtis Institute of Music in Philadelphia and at the Juilliard School in New York. He has worked as a tutor and pianist for the Young Talent Training Program at the Metropolitan Opera. He has collaborated as pianist, coach and chamber musician with the Berlin Philharmonic, Wigmore Hall, the Rheingau Festival, the Miskolc Festival, the Rossini Festival in Bad Wildbad; he has also been a guest at the Staatstheater Darmstadt, Oper Frankfurt, Oper Stuttgart and the Dresden Semperoper. His concerts have been broadcast by NDR Radio and Deutschland Radio Berlin.
He is a valued teacher of both opera singers and pianists. He collaborates with such institutions and organisations as Oper Frankfurt, Theaterakademie München, Zürich opera, Mikhailovsky Theatre, Scuola d'Opera in Bologna, Staatstheater Stuttgart, Semperoper Dresden, Meistersinger Akademie in Neumarkt, Israeli Opera, San Francisco Opera, Richard Tucker Foundation, North Carolina University and the vocal course at the Wroclaw Academy of Music in Duszniki Zdroj. He was artistic consultant to the Teatro Massimo in Palermo and the Teatro San Carlo Napoli. Previously, he was director of the Semperoper Dresden, casting director of the Stuttgart Opera, and artistic advisor to the Ruhr2010 project, presenting the Ruhr region as the cultural capital of Europe.
From 2013 to 2020 Eytan Pessen has taught singing and piano accompaniment at the Warsaw Akademia Operowa. His Polish (and Ukrainian) singing and piano students are now working at many international opera houses as well as in Poland. They include Krzysztof Bączyk, Rafał Błaszczyk, Justyna Bluj, Monika Buczkowska, Božena Buinicka, Aleksander Chodacki, Ewa Danilewska, Kamila Dutkowska, Andrzej Filończyk, Wanda Franek, Michał Goławski, Mateusz Hoedt, Piotr Jaworski, Mariusz Kłubczuk, Paweł Kołodziej, Joachim Kołpanowicz, Paweł Konik, Hubert Kowalczyk, Irina Krasavina, Tomasz Kumiega, Maciej Kwaśnikowski, Joanna Laszczkowska, Piotr Maciejowski, Karolina Makula, Danylo Matviienko, Jakub Józef Orliński, Marcin Pawelec, Natalia Pawlaczek, Dominika Peszko, Wojciech Rasiak, Adam Rogala, Kyeong Yeon Seo, Alina Shevchenko, Alicja Tarczykowska, Mikołaj Trąbka, Sasha Yankevych, Jan Żądło, Hubert Zapiór, Radosław Zaworski.
He currently lives in Stuttgart, Germany.
(Source: https://teatrwielki.pl/ludzie/eytan-pessen/)
Lullaby "Makh tsi di eygelekh" ("Close your eyes") was composed for the ghetto theatre in Lodz, and performed in the ghetto by the singer Ella Diament. The song was written by Isaiah Shpigl, a writer-poet-essayist-teacher who survived the Lodz ghetto and Auschwitz (1906-1990) and by the composer-conductor Dovid Beyglman (1887-1944). None of the survivors interviewed by Gila Flam for her book on songs of the Lodz ghetto could recall the song. The song was published in several collections, including the collection of Shmerke Kaczerginsky (1948:92), and the recording here was also made by him for the Munich Historical Committee of 1946. The reason that survivors of Lodz could not recall the song is because Rumkowski censored the song, and Isaiah Shpigl was threatened with deportation. The song was not performed again.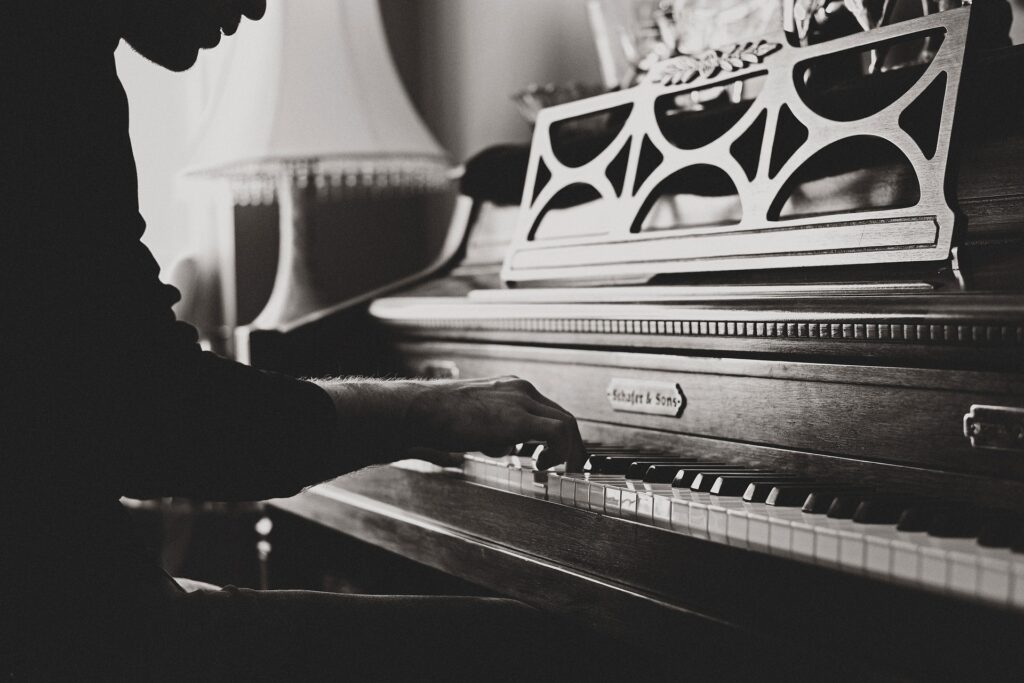 The song is a lullaby, which was one of the most popular song genres of Yiddish folk and theatre music. In a typical Jewish lullaby, the mother soothens the child to sleep with promises of pleasant times to come. The father is usually absent, off making money for the child's education; his return, however, is said to be imminent. Shpigl's composition, turns this concept upside down: father will never come home. The child lies down to sleep in an open field at the mercy of the elements, his parents' house been burned to the ground.
This is one of the hopeless songs composed for a public audience in the Lodz ghetto. Nature does not smile, God has brought night into the little boy's world, and wind and hail accompany the child and the singer into the depths of the earth.
The music is a rare form of musical hybrid, a tango-lullaby. Evidently, tango melodies were very popular during the period, and the contrast between the horrifying lyrics and the sweet melody make the song even darker and more frightening.
Close Your Eyes
Lyrics: Isaiah Shpigl
Melody: David Beyglman
Close your little eyes,
Little birds are coming,
Circling around
The head of your cradle.
Baggage in hand
Our home in ashes
We are setting out, my child
In search of luck.
God has closed off the world
And night is all around
Waiting for us,
Full of horror and fear.
The two of us stand here
In this difficult, difficult, moment
Not knowing where
The road leads.
Naked and bare
We were chased from our home
In darkness,
Driven into the fields;
And storm, hail and wind
Have accompanied us, my child
Accompanied us into
The abyss of the world.
Translated by Kasia Smialkowska
Makh tsi di eygelekh
Makh tsi di eygelekh
Ot kimen feygelekh
In krayzn do arim
Tsikopns fin dayn vig.
Dus pekl in der hant,
Dus hoyz in ash in brand,
Mir lozn zikh, mayn kind,
Zikhn glik.
Di velt hot got farmakht,
In imetim iz nakht –
Zi vart of indz
Mit shoyder in mit shrek.
Mir shteyen bayde du,
In shverer, shverer shu
In veysn nisht vihin
S'firt der veg.
Men hot indz naket, bloyz
Faryugt fin indzer hoyz.
In fintsternish,
Getribn indz in feld,
In shturem, hugl, vint
Hot indz bagleyt, mayn kind,
Bagleyt indz inem opgrint
Fin der velt.